1. Products Range:
We can provide a comprehensive range of composite hoses, specifically engineered to handle all kinds of transfer applications safely and easily. And within each you can choose personalized manufacturing according to your need.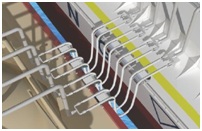 2. Applications:
Dolphinflex® composite hoses apply a variety of fluid transportation in oil, chemical tank terminals, vapour recovery, LPG, LNG carriers and so on.
3. Construction: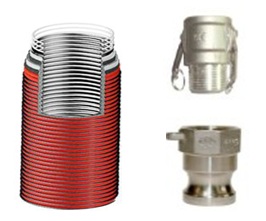 The hoses are constructed from polypropylene fabrics and films and a outer cover of PVC coated polyester fabric which is abrasion, weather and ozone resistant.
4. Features and Safety:
Strong and Durable

Lightweight construction

Flexible operation

Pressure tested at 1.5 times their rated working pressure before shipment. Test certificates are provided with all hoses assemblies.

Safety factor 5:1 (Burst pressure: Working pressure)
5. Type approval and Standards:
Type approved by international class such as ABS, BV, DNV-GL, LR, NK and KR.

Manufactured and tested under the quality control system of IMO/IBC, IGC regulations and applicable standards are EN 13765:2010, EN 13766:2010, EN 1474-2:2008

Recognized by ISO9001:2008, ISO14001 and OHSAS 18001
6. Sales Reference:
Supplied to shipowners own LNG, LPG, Oil & Chemical tankers, Drill ship and FSRU, such as ALPHA TANKERS, TEEKAY, CNOOC, HOEGH and DYNAGAS etc.

Supplied to shipyards such as HYUNDAI, SAMSUNG, DAEWOO, STX etc.

Supplied to the major tank terminals such as HORIZON TERMINALS, ODFJELL TERMINALS, STOLTHAVEN, VOPAK
Please contact us: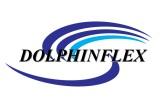 Tel: +86-21-20822836
Mob.: +86-13917237174
E-mail: project@rmsmarineservice.com