HOISTING WIRE
ADVANTAGE OF HOISTING WIRE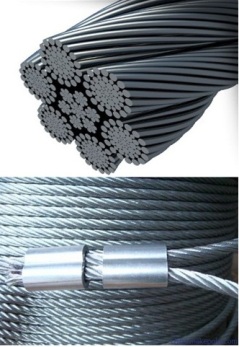 1. We can provide most kinds of different constructions for wire ropes with fast delivery & short leadtime. Several common construction for wire ropes are as follows: 6×7+Fc (IWR, IWS); 6×19+Fc (IWR, IWS); 6×37+Fc (IWR, IWS); 6×19S+Fc (IWR, IWS); 6×25Fi+Fc (IWR, IWS); 6×36SW+Fc (IWR, IWS); 6×49SWS+Fc (IWR, IWS); 8×WS (36) IWRC; 8×WS+(26) and so on. We have a big advantage over products & short delivery time, and we can satisfy the common requests for all customers.
2. DSR wire rope has a long history with developments, professional research team & strong technology support. This kind of wire rope is stable and reliable, comparing with the Japan wire rope, there is no obvious difference for the service life, but the price for DSR wire rope is 20% to 50% cheaper than Japan & Europe ones, we have apparent competitive advantage over price.
3. DSR wire rope is leading internationally and have broad applications in the field of navigation.
CLASS APPROVAL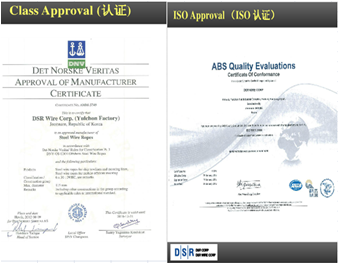 DSR wire rope authorized in Aug. 2012 by DET NORSKE VERITAS;
Authorized in Jun. 2012 by LLOYD;
Authorized in Dec.2011 by API;
and Authorized by ISO 9001 at the same year.