FIBERGLASS GRATING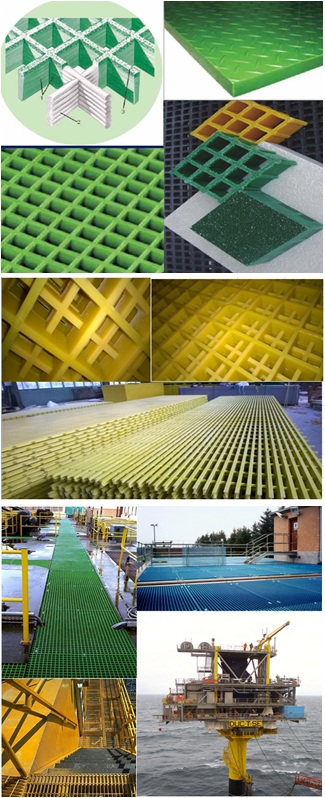 BENEFITS OF FRP GRATING
Long Service Life in Corrosive Environment:
Unparalleled performance in most harsh chemical environments, which could not achieved by using traditional metal grating. No painting and no maintance is required. Please keep in mind , replacement coasts much to owners.
Slip resistance:
Excellent test result (BS7976-2) guarantees sure on both dry and wet working conditions
Light weight,easy installation:
1/4 weight of steel grating makes installation easy and eliminats the need for heavy lifting equipments.Effortless cuting.
A whole spectrum of color for choice:
Select any color as you like without any extral charges.
Fire retardance and low temperature resistance:
Fire retardance meet the standards of ASTM E 84 class 1 and has got the approval from United States Coast Guard (LEVER 2). What is more ,extra low temperature tests witness good performance of -196 degrees Celsius. Ideal materials for most project, widely applied in the platform, deck, gangway, floor etc.
TYPE OF FRP GRATING
Concave surface: Anti-Skid surface, widely used.
Grit sueface: Add grit on the surface, Extral slip resistance.
Plain surface: Available in smooth top, checker pattern top, grit top
Mini-mesh type: Prevent small workig tolls and other subject drop through.
Translucent type: Transparent,can be made in different colors, ideal material for decoration.
Super weather-resistance: Processed with special material and technology, made the grating superior weather-resistance .
The size of the grating are made in dezens:
1220*3660, 1000*2000, 1000*3000, 1000*4000, 915*3048, 1530*3966, 1007*2007, 1007*3007, 1007*4007, 1220*4110, 1530*4004, 1247*2007, 1247*3007 ect.
It can be made in any size and color as you like.